Theory of Operation
The Waukesha Volute Casing
(High Capacity Models are More Versatile)
The optimized Waukesha design performs more efficiently over a wide range of operating conditions. The efficient casing and port design maximize performance under low NPSH conditions.
1) Enlarged Ports
2) Investment Cast, or machined from solid (not stamped & welded)
3) Deeper, more efficient inlet "eye"
4) Volute casing (high capacity models), evens flow, minimizes turbulence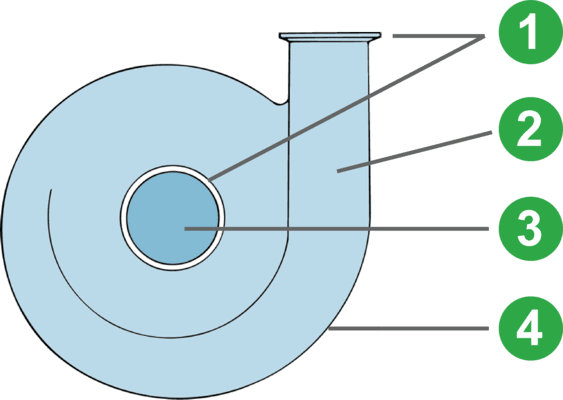 Waukesha's Exclusive Impeller Design
The Waukesha impeller/shaft sleeve is a single, piece mounted rigidly on the motor shaft. Unlike C-flange mounted pumps, it stays aligned and performs with less vibration under the most rigorous operating conditions and maximizes seal life.
1) Exclusive one-piece impeller/shaft; eliminates impeller/hub wear
2) Top efficiency impeller
3) No clips or crevices to breed contaminants
4) Five blade impeller (4 blades on Model 2045)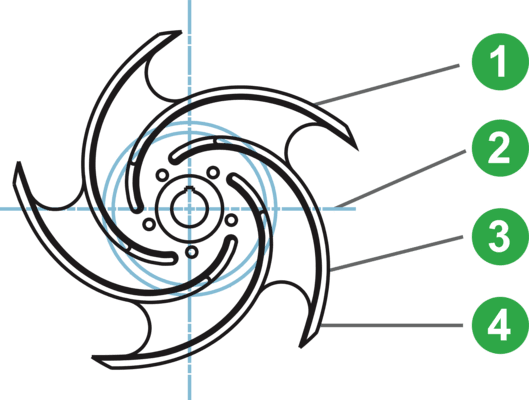 Offering Exclusive NEMA JM Frame Motors for both Sanitary and Industrial Applications
JM Frame Motors are specifically designed for centrifugal close coupled pumps and conform to NEMA, Hydraulic Institute and ANSI standards.
1) Heavier front bearing extends life
2) Extra large motor shaft increases rigidity, reduces vibration
3) Direct connecting impeller; no stub shaft required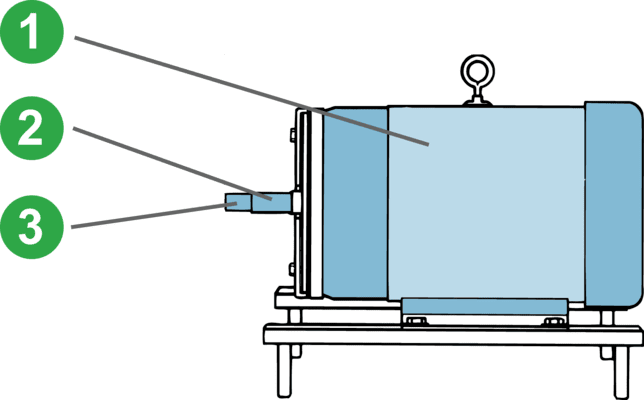 Key Application
Food & Beverage

Dairy

Pharmaceutical & Cosmetic

Chemical & Industrial

Soups, Stews, Tomato Pastes
Vegetables, Dressings
Chocolate, Fats, & Oils
Batters, Cream Fillings
Brewery, Wort
Soft/Fruit Drinks
Meat Processing

Cream, MIlk
Cheese Curd & Whey
Cottage Cheese
Yogurt

Pill Pastes
Syrups, Extracts, Slurries
Face Creams & Lotions
Hair Styling Gels & Liquids
Dyes & Alcohols
Soaps
Cosmetic
THC & CBD Handling

Solvents, Paints
Fuels
Resins, Polymers, & Sludges
Oils & Lubricants
Specifications
MODEL

INLET

OUTLET

MAXIMUM
IMPELLER
SIZE


MAXIMUM
CAPACITY


MAXIMUM
HEAD

1750 RPM

3500 RPM

1750 RPM

3500 RPM

2045

" (38mm)
2" (51mm)

1½"
(38mm)

4½"
(114 mm)

97 GPM
(22 m³/hr.)

190 GPM
(43 m³/hr.)

22 ft.
(7 m)

88 ft.
(27 m)

2065LV

1½" (38mm)
thru
2½" (64mm)

1½"
(38mm)

6½"
(165 mm)

100 GPM
(23 m³/hr.)

200 GPM
(45 m³/hr.)

44 ft.
(13 m)

180 ft.
(55 m)

2065

2½"
(64mm)

2"
(51mm)

6½"
(165 mm)

245 GPM
(56 m³/hr.)

400 GPM
(91 m³/hr.)

47 ft.
(14 m)

190 ft.
(58 m)

2065HV

3"
(76mm)

2"
(51mm)

6½"
(165 mm)

370 GPM
(84 m³/hr.)

500 GPM
(114 m³/hr.)

50 ft.
(15 m)

200 ft.
(61 m)

2075

3"
(76mm)

1½"
(38mm)

811/16"
(218 mm)

125 GPM
(28 m³/hr.)

300 GPM
(68 m³/hr.)

80 ft.
(24 m)

320 ft.
(98 m)

2085LV

2"
(51mm)

1½"
(38mm)

8½"
(216 mm)

70 GPM
(16 m³/hr.)

145 GPM
(33 m³/hr.)

81 ft.
(25 m)

330 ft.
(101 m)

2085

3" (76mm)
4" (102mm)

2½"
(64mm)

811/16"
(218 mm)

480 GPM
(109 m³/hr.)

840 GPM
(191 m³/hr.)

85 ft.
(26 m)

342 ft.
(104 m)

2105

4" (102mm)
6" (152mm)

4"
(102mm)

10½"
(267 mm)

1400 GPM
(318 m³/hr.)

N/A

133 ft.
(41 m)

N/A