APV R Series PD Pump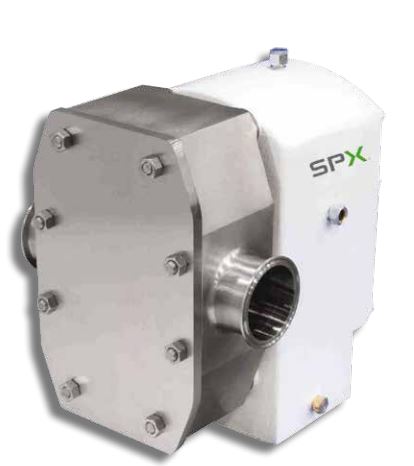 Overview
For applications where metal rotors just won't work, we recommend the APV R Series. The R Series is great for applications where the pump needs to be cleaned out of place regularly, like in meat processing or baking applications. The R Series is simple and robust, featuring a simple rubber lip seal and front o ring gasket. With options like enlarged rectangular intlets and degassing cover, the R series offers flexibility, performance, and robustness for rugged, long lasting efficient performance.
Features
APV R Series Pump Features include:
Limited number of parts

Easy teardown and assembly
Standard Rubber coated rotors
Simple front loaded lip seal
Optional metal rotors, degassing covers, rectangular inlets
Theory of Operation
R Series Rotary Pumps incorporate a long life, sanitary, stainless steel body with versatile, resilient, molded rotors and a heavy duty cast iron gear case – all of which are designed to give dependable, economical service over a wide range of products and applications. All product contact parts are 316 stainless steel with food grade seal and rotor materials which will not impart odors or affect flavors. All parts are interchangeable and replaceable in the field.
Key Applications
Food & Beverage

Dairy

Pharmaceutical & Cosmetic

Chemical & Industrial

Fruit Juice
Cider and Wine
Yeast
Liquid Sugar & Glucose
Fruit Preserves
Soups & Sauces
Baby Food
Chocolate

Cream
Butter
Cheese Curd & Whey
Yogurt
Ice Cream

Antibiotics
Toothpaste
Cough Medicine
Shampoo

Paint
Oil Additives
Resins
Photographic Film Coatings
Options
Body Mounting configurations- side inlet/outlet, top inlet/outlet

Rectangular inlet
Heavy duty cover for pressures higher than 100 PSI
Vented cover for downstream pressure relief
Degassing cover
Font outlet for low height applications
Rotor Exchange program
Resources