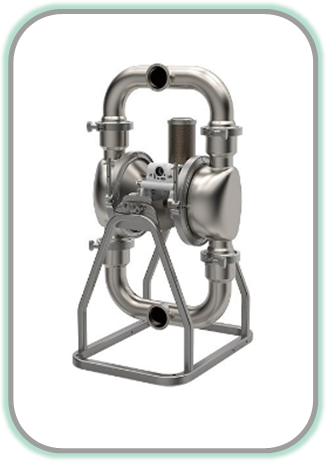 Graco Saniforce 3A Approved Air Operated Diaphragm Pumps
Graco's SaniForce 3A Air Operated Double Diaphragm pumps are designed to handle applications requiring 3A certification such as dairy, yogurt, cottage cheese, and ice cream ingredient transfer. Mounted on a floor stand and equipped with a leak detector, SaniForce 3A Diaphragm pumps can be rotated 360 degrees for easy draining and sanitizing.
Features
FDA & 3A Approved
Increase durability and reduce repair time with fewer moving parts.
Fewer crevices for harboring bacteria with the single piece manifold and overmolded diaphragms for increased sanitation and easier cleaning.
Pump rotates 360 degrees for quick draining and easy servicing and sanitizing.
Features Graco's lube free, non-sticking air valve with external serviceability for quick, inexpensive repairs.
Tri-clamp connections allow accelerated cleaning and minimal downtime.
32 Ra welded stainless steel with sanitary finish.