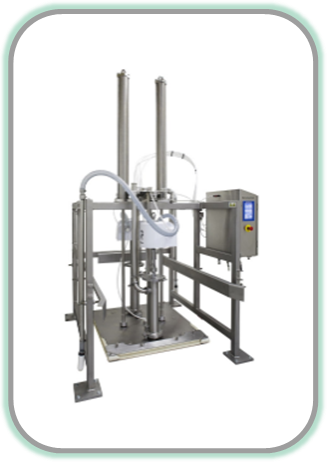 Graco Saniforce Bin Evacuation Systems
Graco's SaniForce Bin Evacuation Systems can evacuate medium to high viscosity products from 300 gallon (1136 liter) containers without diluting or heating the contents. Each system includes a pump ram with an inflatable seal that securely fits the container for evacuation rates up to 99%. Common applications include the transfer of tomato paste, peanut butter, jams and jellies, icing and frosting, caramels, corn syrups, toothpaste, and more.
Features
Up to 99% evacuation rate of medium to high viscosity materials without diluting or heating the contents.
Superior alternative to manual scooping for improved food and employee safety.
Automated controls remove unnecessary operator interaction and automate the unload process.
FDA-compliant inflatable ram plate seal securely fits straight-sided and tapered drums with high evacuation rates and faster change-out of containers.
Sanitary flange clamps allow quick disassembly for easy cleaning and sanitizing and minimal downtime.