Waukesha Universal Twin Screw PD Pump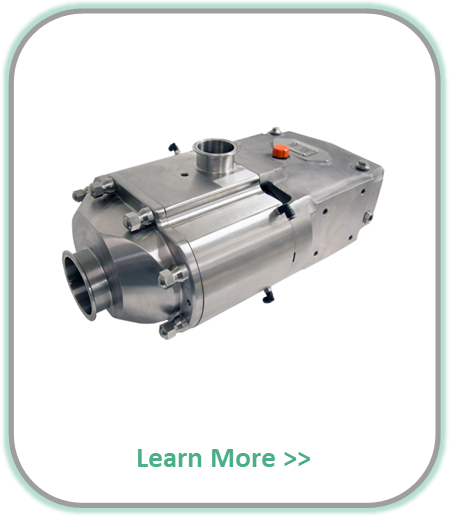 Overview
The UTS offers the same great performance you've come to expect from the Universal Series of PD pumps, building on that legacy to bring Twin Screw Technology to the high purity process space. The UTS offers reliability, flexibility, and smooth operation for the most demanding of twin screw pumping applications.
Features
Standard UTS Pump Features include:
Waukesha Alloy 88 non-galling screws enable reliable performance by running through incidental contact and reducing the risk of pump damage

Multiple screw pitches for large particulate handling without degradation

Responsive service- the UTS line is fully supported by Waukesha's industry leading distribution network

Process flexibility- the UTS is perfect for low NIPA applications as well as dual duty applications where we need one pump to run both product and CIP
Smooth operaiton

Reduced noise levels
EHEDG compliant
Theory of Operation
The Universal Twin Screw delivers axial flow with gentle product handling and the ability to pump shear sensitive fluids with larger particulates in lower pressure applications.
As the screws mesh together, they form multiple sets of "sealed cavities" which give the pump positive pressure capability to carry product from the inlet to the outlet in a smooth, consistent manner.
Three screw pitch options are available for all model sizes to provide users with a wide selection of pressure and flow rate profiles depending on application and particle size requirements.
Our widest pitch rotor has a smaller helical surface and is used for applications requiring lower pressures and higher flow rates
Our narrow pitch rotor has a larger helical surface and is used when applications require higher pressures and have lower flow rates. The narrow pitch also provides the most optimal suction capacity.
The mid-range pitch offers a balance in pressure and flow velocities between the larger and smaller screw profiles.
Key Applications
Food & Beverage

Dairy

Pharmaceutical & Cosmetic

Chemical & Industrial

Soups, Stews, Tomato Pastes
Vegetables, Dressings
Chocolate, Fats, & Oils
Batters, Cream Fillings
Brewery, Wort
Soft/Fruit Drinks
Meat Processing

Cream, MIlk
Cheese Curd & Whey
Cottage Cheese
Yogurt

Pill Pastes
Syrups, Extracts, Slurries
Face Creams & Lotions
Hair Styling Gels & Liquids
Dyes & Alcohols
Soaps
Cosmetic
THC & CBD Handling

Solvents, Paints
Fuels
Resins, Polymers, & Sludges
Oils & Lubricants

Videos
Resources
Success Stories