APV W+ Centrifugal Pumps
Overview
APV's W+ sanitary centrifugal pump are designed to achieve total cost optimization with efficiency and product dependability. The W+ pumps run with the same rugged reliability you've come to expect from SPXFlow products. With 14 different models, there is a W+ for every sanitary centrifugal pumping application.
Features
Standard W+ Pump Features include:
Reliable, heavy duty design
Energy Efficient
Quiet performacne with minimal vibration
Superior shaft seal design
High pressure capability
3A approved
Designed for CIP & SIP
Covers flows from 32 GPM- 625 GPM
Seal Advantages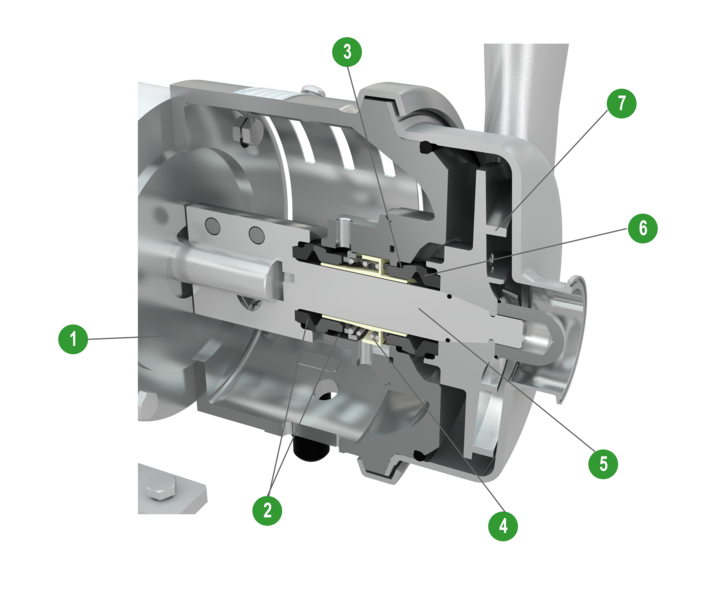 Internal seal design optimizes cooling and lubrication of seal surfaces while the seal chamber is built to efficientyl dissipate heat. Both of these features reduce the risk of dry-running

Internal seal and flow through seal zone assure thorough cleaning of seal area
Unlike competitive designs, the stationary spring is located outside the product contact zone to increase cleanliness
Two seal sizes cover all models of pumps
Simplified maintenance- only the pump housing and impeller have to be disassembled, then the product seal faces can be replaced quickly from the front
Optional double mechanical seal for aseptic applications.
Key Applications
Food & Beverage

Dairy

Pharmaceutical & Cosmetic

Chemical & Industrial

Soups, Stews, Tomato Pastes
Vegetables, Dressings
Chocolate, Fats, & Oils
Batters, Cream Fillings
Brewery, Wort
Soft/Fruit Drinks
Meat Processing

Cream, MIlk
Cheese Curd & Whey
Cottage Cheese
Yogurt

Pill Pastes
Syrups, Extracts, Slurries
Face Creams & Lotions
Hair Styling Gels & Liquids
Dyes & Alcohols
Soaps
Cosmetic
THC & CBD Handling

Solvents, Paints
Fuels
Resins, Polymers, & Sludges
Oils & Lubricants
Videos
Resources