Theory of Operation
The Waukesha Universal Series of pumps use the time-tested circumferential-piston operating principle. The arc-shaped "pistons" (rotor wings) travel in annular-shaped cylinders machined in the pump body; the resulting long sealing path reduces slippage and produces a smooth flow of product without destructive pulses or pressure peaks and without valves or complex parts.
Because the rotors are made of Waukesha non-galling Alloy 88, the rotors can be run with exceptionally close clearance with the 316L stainless steel fluid head, without having to fear galling or seizing should inadvertent pressure surges cause contact. The close clearances combined with the rotor geometry, which gives a long sealing path between the pump inlet and outlet, means low slip operation even with low viscosity fluids. This means you get high efficiency, good priming ability, metering capability, and flow control everytime you use a Waukesha Universal Pump.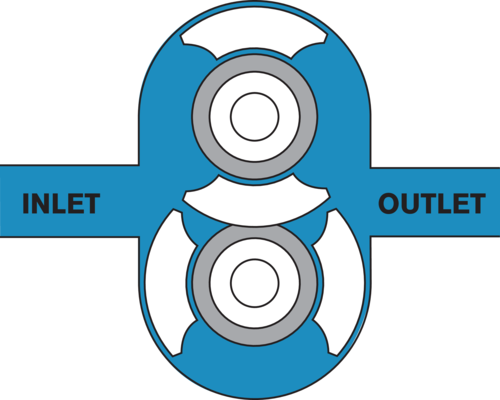 Additionally, because of the large fluid cavities in the rotors, plus the large, easy entry anti-cavitation ports, the Universal Series of pumps allow efficient pumping of high viscosity fluids, slurries, or even liquids with large chunks or particles.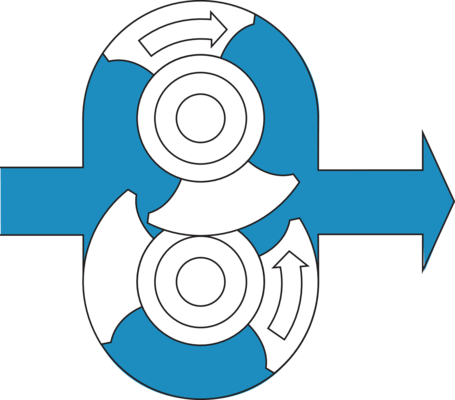 Finally, because the Waukesha Cherry-Burrell design has no bearings in the fluid being pumped, no sliding or rolling contact and no rotor-to-rotor contact, we get excellent service with every Universal Positive Displacement pump even under sever or abrasive conditions.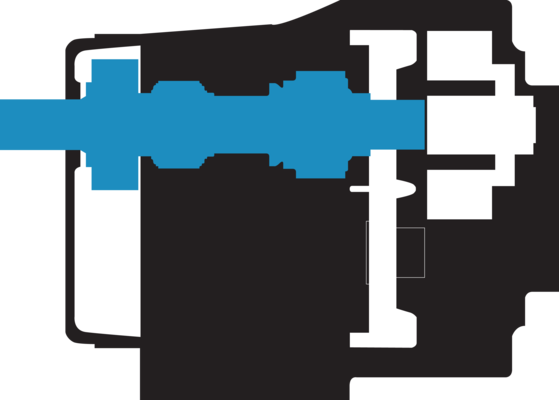 Key Applications
Food & Beverage

Dairy

Pharmaceutical & Cosmetic

Chemical & Industrial

Soups, Stews, Tomato Pastes
Vegetables, Dressings
Chocolate, Fats, & Oils
Batters, Cream Fillings
Brewery, Wort
Soft/Fruit Drinks

Cream, MIlk
Cheese Curd & Whey
Cottage Cheese
Yogurt

Pill Pastes
Syrups, Extracts, Slurries
Face Creams & Lotions
Hair Styling Gels & Liquids
Dyes & Alcohols
THC & CBD Handling

Solvents, Paints
Fuels
Resins, Polymers, & Sludges
Oils & Lubricants
Soaps
Specifications
MODEL

DISPLACEMENT
PER REVOLUTION

NOMINAL
CAPACITY
TO

INLET/
OUTLET
OPTIONAL
INLET/
OUTLET

PRESSURE RANGE
UP TO*

MAXIMUM
RPM
APPROX
SHIP
WT.
TEMP RANGE
006-U3
.0082 GAL. (.031 LITER)
8 GPM (1.8 m3/hr.)
1.0 in
1.5 in
300 PSI (20.7 bar)
1000
56lb
(25kg)

Std Clearance Rotors:
-40°F (-40°C) to
300° (149°C)

015-U3
.0142 GAL. (.054 LITER)
11 GPM (2.5 m3/hr.)
1.5 in
---
250 PSI (17.2 bar)
800
56lb
(25kg)
018-U3
.029 GAL. (.110 LITER)
20 GPM (4.5 m3/hr.)
1.5 in
2.0 in
200 PSI (13.8 bar)
700
65lb
(30kg)
030-U3
.060 GAL. (.227 LITER)
36 GPM (8.2 m3/hr.)
1.5 in
2.0 in
250 PSI (17.2 bar)
600
130lb
(59kg)
040-U3
.076 GAL. (.288 LITER)
46 GPM (10.4m3/hr.)
2.0 in
---
150 PSI (10.5 bar)
600
140lb
(64kg)
045-U3
.098 GAL. (.371 LITER)
58 GPM (13.2 m3/hr.)
2.0 in
---
450 PSI (31.0 bar)
600
295lb
(134kg)
060-U3
.153 GAL. (.579 LITER)
90 GPM (20.4 m3/hr.)
2.5 in
3.0 in
300 PSI (20.7 bar)
600
285lb
(129kg)
130-U3
.253 GAL. (.958 LITER)
150 GPM (34.1 m3/hr.)
3.0 in
---
200 PSI (13.8 bar)
600
305lb
(138kg)
180-U3
.380 GAL. (1.438 LITER)
230 GPM (52.2 m3/hr.)
3.0 in
---
450 PSI (31.0 bar)
600
520lb
(236kg)
210-U3
.502 GAL. (1.900 LITER)
300 GPM (68.1 m3/hr.)
4.0 in
---
500 PSI (34.5 bar)
600
915lb
(415kg)
220-U3
.521 GAL. (1.972 LITER)
310 GPM (70.4 m3/hr.)
4.0 in
---
300 PSI (20.7 bar)
600
590lb
(268kg)
320-U3
.752 GAL. (2.847 LITER)
450 GPM (102 m3/hr.)
6.0 in
---
300 PSI (20.7 bar)
600
895lb
(406kg)
Options
Ports
Standard: Sanitary Clamp Type Is available in a variety of styles including S-Line, I-Line and Q-Line
Bevel Seat Available

Optional European Types; DIN, SMS, RJT

Male NPT and 150 lb. flanges optional on Models 006 through 220 size.

150 lb. flanges standard on Model 320.

Contact factory for available rectangular flange inlets.
Rotors
Standard: Twin Wing - Standard; suitable for most applications.
Single Wing - For reduced breakage on fluids with discrete particulates, such as diced tomato products
Rotor clearance
Standard: up to 300°F (149°C)
Low viscosity clearance rotors optional for applications up to 200°F (93°C)

Contact application engineering for other rotor clearance options
O-Rings
Standard: Buna-N
Options:
PTFE/FFKM

Fluoroelastomer (FKM)

Fluoroelastomer (FKM) - Class 6
O-Rings
Standard: Fluoroelastomer FKM
Options:
PTFE/FFKM

Fluoroelastomer (FKM)

Fluoroelastomer (FKM) - Class 6

EPDM

EPDM - SF

EPDM - Class 6

Silicone

Perfluoroelastomer (FFKM)

FEP Encapsulates

Buna-N - Metal Detectable

FKM - Metal Detectable

EPDM - Metal Detectable
Seal Options
Standard: Single Mechanical Seal Standard seal configuration: silicon carbide rotary seal face and carbon stationary seal face. Alternate materials available for abrasive service.
Options:
Double Concentric Mechanical Seal - Used with flushing fluid to cool, lubricate, flush away residue. Best arrangement for severe service.

Single and Double O-ring Seal - Waukesha Cherry-Burrell's traditional general purpose seal. Low cost and easy to service. Suitable for low pressure applications. 100 psi, 7 bar

Elastomer choices for o-rings: Fluoroelastomer (FKM), EPDM, Perfluoroelastomer (FFKM)

Mechanical seal material options: carbon, silicon carbide, tungsten carbide
Cover & Gearcase
Standard: Stainless steel 17-4 shafts, top shaft position, stainless steel bearing retainers, shaft completely sealed from product zone.
Options:
Lower shaft position

Bearing isolators

Pedestal shims for side mounted pumps. Left hand shaft position is standard

Right hand shaft is positioned on side mounted gearcase
Shaft Position
Standard: Top shaft position
Options:
Mounting
Standard: Flat plate, epoxy painted, with adjustable feet, SS coupling guard, and Lovejoy or Woods coupling standard.
Options:
304 SS unpolished plate base with adjustable feet

Portable base with rubber wheels

SS tubular bases
Bases & Drives
Standard: Stainless steel tubular base with adjustable feet and stainless steel guard and coupling standard
Options:
304 SS plate.

Flat epoxy plate.

Portable base.

Tru-Fit®

Close coupled Tru-Fit® pump mounted on stainless steel base with stainless steel adaptors standard.

Features:

No shaft alignment necessary. No coupling guard required.

Special base design enhances cleanability.

Reduces overall length of complete unit by an average of 20-25%.

Average of 20-25 gear ratios available per horsepower.

Separate oil sump for gear reducer and timing gears.

Options:

304 SS polished plate base.

NEMA or IEC frames available. Right angle reducer also available for
additional space savings.

1/2 through 60 horsepower drive options available.

Horizontal or vertical porting.